We are proud to accept the "Oops I Ate It" award from our buddy
Salinger
.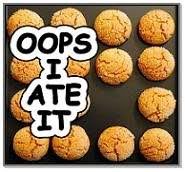 Here are the rules for accepting this...
When accepting this award, you must blog about the food you have stolen when your humans were not watching…If you have never stolen any food, you must be a really good pup!! You can accept this yummy tray of cookies as your reward! Next add the logo of this award to your Blog (optional), then nominate at least 5 other furry blogs and let them know by leaving a message on their Blogs…
Let's see... Mom keeps a pretty good eye on us so we really haven't had a chance to steal any food. We are taking lessons from
Roxy
in this department so hopefully we will get a chance to steal some goodies real soon.
However, we have eaten our share of non-foodables. Both Brutus and I like to invade the bathroom where the kitty litter is and have our way with the treats that are left there. Mom says this is disgusting and keeps this room blocked off pretty well most of the time. We also both like to clean up kitty yak.
I have an affinity for mushrooms and grass in the back yard. Mom lets me eat grass but her and dad are careful to make sure that I don't eat any of the mushrooms - they say they are bad for me.
We have seen alot of other doggies have already gotten this award so we are not going to list any names - if you haven't received this award yet, please take it and display it proudly!
Also, we were the recipients of a Charity Paw it Forward from
Lilo
. She is going to donate to a great charity on our behalf -
Kentuckiana Pug Rescue
. We thought this was a great idea as we already have our share of toys and there are so many dogs out there needing our help. If you don't know Lilo, go check out her
blog
- she is one cool pug and her mom rocks!! :)
And since we don't want to leave without showing our cute and adorable selves, here we are all snuggled up our favorite Detroit Red Wings blanket - It's almost hockey season -
G
O WINGS!!!