We recently received a couple of awards! Thank you so much to Nola as well as moPSY + MISIOber for the Liebster Blog Award!!
Liebster means "dearest" in German, and the award is intended to help up-and-coming

blogs get the attention they deserve. As with any award, there is a bit of
ceremony

involved. In order to accept the award, I must do the following:
1. Copy and paste the award on my blog.
2. Link back to the blogger who gave me the award
3. Pick my five favorite blogs with less than 200 followers, and leave a comment on their
blog to let them know they have received the award
4. Hope the blogs I've awarded share it!
So, here is our list of blogs that we think are great that have less than 200 followers. We had a hard time narrowing it down to just five!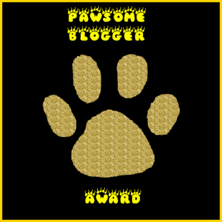 Th
e rule for this award is that we have to pass this on to 10 other bloggers who bring us fun, love, laughs and furiendship.
Since this describes pretty much all of our furiends we want to extend this award to ALL of our bloggy furiends! So if you haven't already received this award, please take it :)